The amount of ETH traded daily on OpenSea has doubled yesterday from about $48 million to $105 million, shows data from Dune Analytics.
The last time that the daily volume of ETH on OpenSea reached the $100 million level was exactly a month ago, on October 15th. It's true also that, a month ago, that was a more common thing.
For a period, it looked like things cooled off, but a sudden increase in sales volumes for Bored Ape Yacht Club NFTs yesterday has pushed the numbers up again.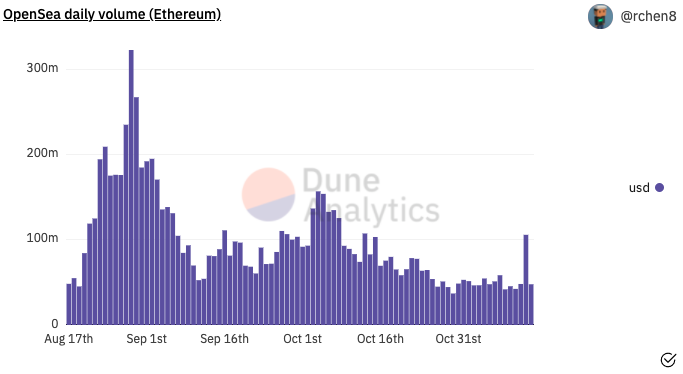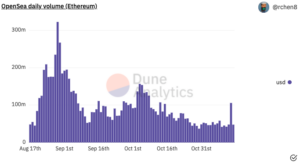 CryptoSlam! data shows that the sales volume for Bored Ape Yacht Club (BAYC) NFTs increased by 900% since yesterday. Meanwhile, sales of spin-off Mutant Ape Yachy Club (MAYC) grew by 1,100%.
Bored Ape Yacht Club represents a collection of 10,000 NFTs that was released in April with every image showcasing a portrait of a cartoon ape that was created from a combination of up to 170 traits.
The project received support from the mainstream as just a week ago, Rolling Stone magazine began a collaboration with BAYC to launch 2,500 limited-edition paper zines, all of them with a Bored Ape on the cover.
A digitized version of the magazine went up for auction on Superare, as an NFT, alongside an alternative cover that was inspired by the MAYC – a similar collection made out of 20,000 NFTs was released by BAYC creators at the end of summer.
The biggest record label in the world, Universal Music Group, confirmed that it plans on creating a Gorillaz-style metaverse group known as Kingship with its avatars being based on Bored Ape Yacht Club NFTs that are owned by Jimmy "j1mmy" McNelis, a collector.
Kingship will be able to perform in virtual world settings and more NFTs will come as the metaverse will expand. Nicholas Adler will be the manager of the group – he is known for being the manager of Snoop Dogg, a huge fan of crypto.
Timbaland has also confirmed that he will create a metaverse band from BAYC avatars and will collaborate with Ape-In Productions, a new company that is in charge of producing music and animations for the project.